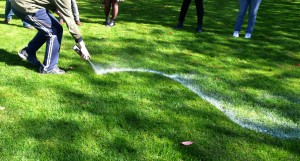 Spring has arrived, and that calls for two play dates this month:
Sunday 21 April, 3-5 pm — with special guests from Arts Umbrella Teen Scholarship Program
Sunday 28 April, noon-3pm — regularly-scheduled League gathering
21 April
League recently visited the Arts Umbrella teen program to talk about artworks as games and about play and the art-making process. The students will be bringing some game ideas to workshop. Contact Chess, anyone?
28 April – Ready…Set…Slow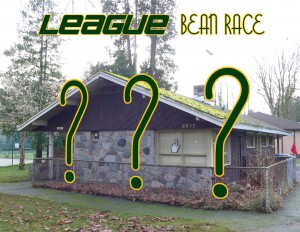 Our next regularly-schedule play date falls the day after Slow Art Day, an annual event promoting unhurried looking. We'll make up our own version of slowness, bring the body into play. How slow can we go?
Special guests this day will be artists from one of the other Park Board field house residencies, the Field House Ensemble based in Strathcona Park. Their project is all about slow culture.
We can also prepare the field house yard for the League Bean Race, a contest cultivating patience and care. Three teams will be building structures and nurturing beans to grow to unknown heights.

Upcoming at League
League has a busy few months ahead. We're currently planning The n Games for Sunday 8 September 2013. The n Games is an innovative tournament for teams from diverse backgrounds, playing sports they do not know. It asks: what kind of team would be best prepared for unexpected challenges? A youth football team or wily senior hockey players? A finely-tuned business team or a pick-up team of elite runners? Backpackers or dancers? A theatre troupe or a group of yoga teachers? There are still a few spots available in the tournament, so please contact us if you'd like to secure one.