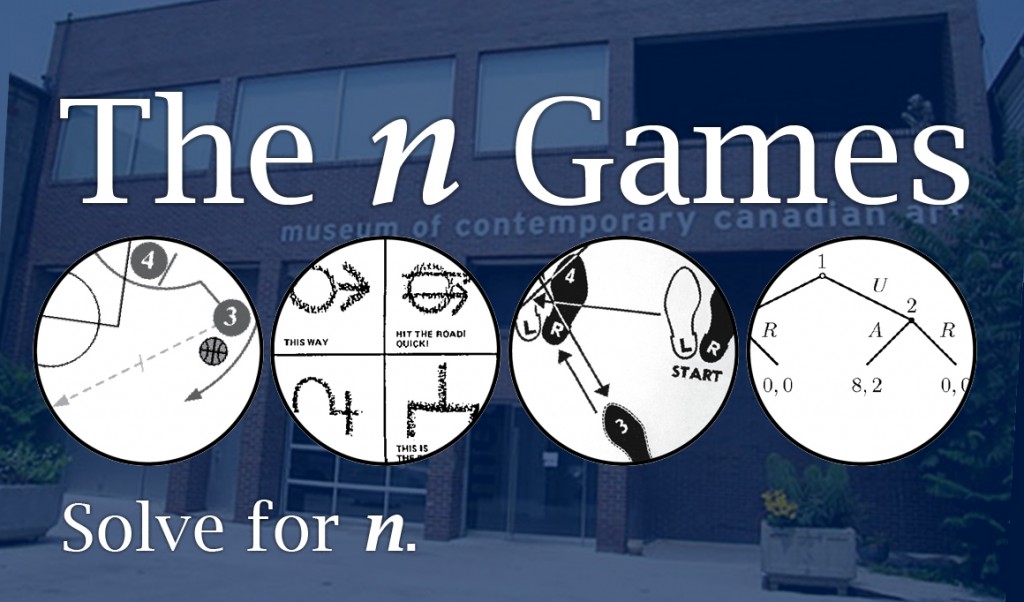 When: 7pm Saturday 5 October to 7am Sunday 6 October
Where:  Museum of Contemporary Canadian Art, 952 Queen Street West, Toronto
The n Games is a tournament of invented sports in which players test their teamwork, strategic skills, and adaptability by playing invented games they do not know. This version of The n Games will be presented in the courtyard of the Museum of Contemporary Canadian Art for Scotiabank Nuit Blanche, an all-night contemporary art extravaganza in Toronto.
It will be an ongoing pick-up game involving the audience as participants, as well as local teams such as the Toronto Roller Derby D-VAS. The games to be played will range from vigorous to cerebral, straightforward to strategic, and will ultimately test the players' abilities to creatively tackle challenges with both mind and body.
The n Games is presented by League, a community-based art project that gathers people to play invented games and sports as a form of creative problem-solving. For the Nuit Blanche edition of The n Games, we have partnered with the Department of Biological Flow experimental research-creation collective.
Advance press
- Sue Carter Flinn, Toronto Life, "Nuit Blanche 2013 Guide: 15 must-see spectacles at Toronto's eighth annual all-night art crawl", 30 September 2013.
- Canadian Art, "10 Artists' Nuit Blanche Tips & Troubles", 3 October 2013.
- Murray White, Toronto Star, "Nuit Blanche 2013: Shots in the dark", 3 October 2013.
Jonathan Zettel, CTV Toronto, "Scotiabank Nuit Blanche: 10 things to see at the art-after-dark show", 4 October 2013.
Update
Germaine's play report is here.
The n Games Vancouver edition
Were you looking for information about the inaugural Vancouver edition of The n Games this past September? Go here for information about the tournament and here for a tournament report.