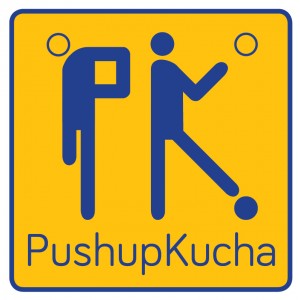 PushupKucha is a new action-oriented salon concept that plays on the short presentation format, augmenting ideas with practice. Not only do PushupKucha presenters convey new ideas in a few short minutes, they also include physical audience action.
The first edition of PushupKucha will take place in and around the Elm Park field house on Tuesday 29 April at 7pm.
Presenters tackling questions of cooperation and neighbourliness are:
Matt Hern, author of One Game At A Time: Why Sports Matter
Adrienne Pierce and Ari Shine, the musician collaborators known as The Royal Oui
Justin Langlois of Windsor-based Broken City Lab, a collective whose creative practice leans towards civic change
Members of the Mill Community Project concerned with the currently-buried Inglewood "Mill" skatepark in West Vancouver.
Nick Boulding, teacher in Take A Hike adventure-based education program for youth at risk.
Audience:  Come prepared for action. Attendance will be limited; join the facebook event here.
Time/Date:  Tuesday 29 April, 7pm
Location: Elm Park field house, 5837 Larch Street, Vancouver (map)