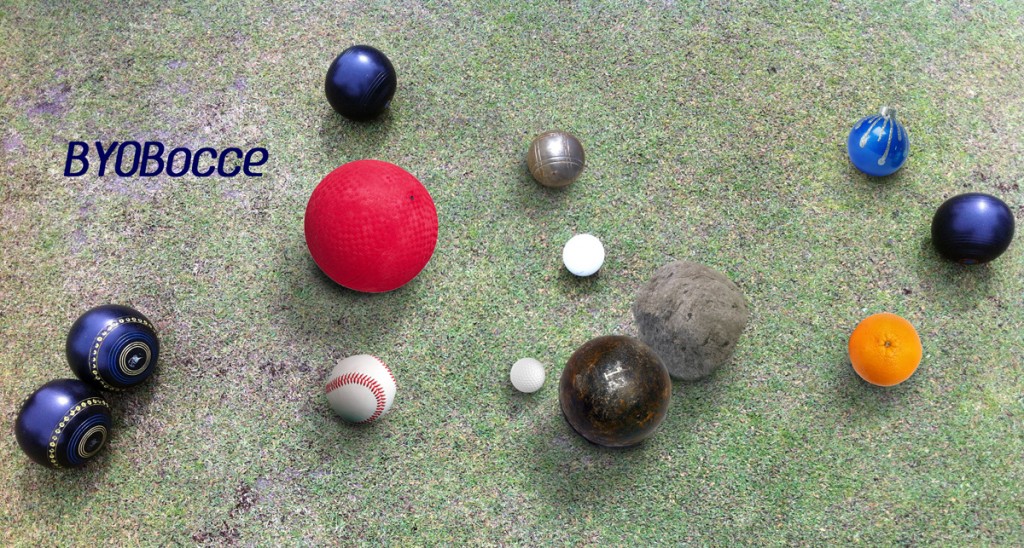 For the next League play date on Sunday 26 May, you're asked to B.Y.O.B: Bring Your Own Bocce.
Bocce, Pétanque, Bowls and Bowling, Curling, Golf, Croquet, Marbles — all are games of precision and strategic positioning. Each uses objects and settings that have peculiar characteristics to be tamed and mastered. Imagine any of these games played using objects with quite different tendencies: softness, size, bounciness, fragility or lightness, unpredictability, permeability, etc. For B.Y.O.Bocce our starting point will be bocce-like games played with different materials brought by participants. Bring your own rollable, pitchable, puttable, or lobbable objects.
This League play day will unfold in two locations:
11:00am-1:00pm special appearance at Memorial Park West, for Dunbar's Salmonberry Days Festival
1:00-3:00pm at our regular location, Elm Park in Kerrisdale.
League is an open gathering for playing invented games and sports, to practice improvisation, strategy, performance, and critical thinking as play. Everyone is welcome to drop in; bring both body and mind.
Other League news
Planning is underway for The n Games, an innovative tournament for teams from different backgrounds. It asks: what kind of team would be best prepared for unexpected challenges? On 8 September 2013, different sports-, creative- and business teams from across Vancouver will convene at Elm Park to test their teamwork, strategic skills, and adaptability, competing against each other to play invented sports they do not know. Participating teams include Roadhouse Interactive game studio, Double Rainbow Dodgeball League, Rethink advertising agency, Theatre Replacement, and the Daughters of Beer. A Toronto edition of The n Games will also take place as part of Scotiabank Nuit Blanche, overnight on 5 October 2013.
Contact us with sponsorship and registration enquiries for The n Games.
Also look out for League at the following events:
Saturday 15 June, 10am-noon: Vancouver Draw Down, a one-day city-wide drawing event. At Elm Park, "drawing will involve full-body motion, running and walking with the field-marking equipment, and participants will work together to invent a game to match the lines."
Sunday 16 June: Western Front's 40th Anniversary Open House.